Most Jews in the 21st century see hell as a Christian concept. The reality is much different. Competing views on the eternality of punishment are found in Jewish sources. One fascinating context for it is a discussion held in the Sephardic community of Amsterdam. The history of the community can be found in the excellent work of Miriam Bodian titled, Hebrews of the Portuguese Nation: Conversos and Community in Early Modern Amsterdam.
The integration of Conversos and their adherence to Judaism were of paramount importance to the community of Amsterdam and other communities composed primarily of former Conversos. Rabbi Saul Levi Morteira, the head rabbi of the community, held an unforgiving stance against Conversos, who failed to immigrate to lands where they could openly observe Judaism. For Morteira, Conversos were Jews who would be punished eternally if they failed to return to the Torah.[1]
Rabbi Isaac Aboab Fonseca, a student of the former Converso and Kabbalist Abraham Cohen de Herrera who in turn was a student of Israel Sarug believed that "All Israelites are a single body (guf echad) and their soul is hewn from the place of Unity."[2] Every Jew no matter where they resided or how deficient their connection to Torah may have been was still an essential component of the transcendent body of Israel.[3] Aboab was focused on ensuring the acknowledgment of Conversos as part of the people of Israel without any qualification. This was predicated on Aboab's Kabbalistic belief that Jewish souls were distinct.[4]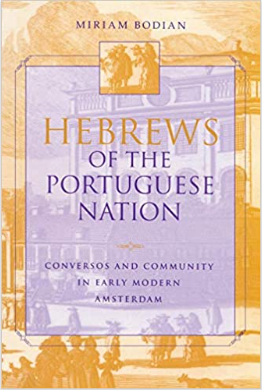 Rabbi Aboab was also a former Converso. Aboab believed that Conversos were Jews who had a share in the world to come. Aboab believed that when the Sages stated that "a Jew, even though he sinned, is a Jew" this meant the following:
"Even though he sinned, he shall not be cut off forever from the tree because of this; he is indeed a Jew and even though he has exchanged G-d for new gods, he will still be called a Jew again through the transfiguration and punishment, all according to a trial of justice, as explained."[5]
Rabbi Morteira opposed Rabbi Aboab fiercely on this issue. Morteira was more skeptical regarding Kabbalistic tradition than Aboab was. Morteira refused to accept this belief that Conversos that failed to rejoin the community would share in the World to Come. The conflict pitted Morteira, an eminent Talmudic scholar against Aboab, a leading Kabbalist.[6] Morteira believed the existence of eternal punishment was key in ensuring his community remained faithful to Torah observance without deviation.[7]Morteira was so troubled by the potential consequences of Aboab's views, that he designated this belief as heresy.[8] Rabbi Morteira believed that Rabbi Aboab's position effectively encouraged Conversos, who remained in the lands of idolatry to linger there. [9]Morteira was resolute in his interpretation of classical Jewish sources on this issue.[10] For Morteira, the Mishnah's statement that "all Israel (Israelites) have a share in the world to come" was not to be regarded as an unqualified judgment.[11]
Morteira was concerned that the Aboab's interpretations were gaining currency among many of the community's youth.[12] The opponents of Rabbi Morteira assumed that his position was reflective of Christian perspectives. Ever sensitive to their Christian backgrounds, these former Conversos were against anything that they identified as foreign.[13]
They approached the communal leaders and demanded that Rabbi Morteira be prevented from disseminating his views on the eternality of punishment. The debate quickly escalated to a matter of heresy with Morteira appealing to the rabbinic court in Venice.[14]The leaders of the community approached Rabbi Abraham Aboab first and not the Bet Din directly for his review of the matter.
Rabbi Abraham Aboab pleaded with Rabbi Isaac Aboab Fonseca to reject his views on the afterlife and abstain from disseminating these opinions. Chief among Rabbi Abraham Aboab's concern was the dangerous implications it could have for former Conversos. He wrote that it was especially necessary to relate this warning to "those of our people who came from those places…[who] would seek only one thing, namely the way how to serve G-d in sincerity (bitemimut) and how to fulfill the miswot according to Halakah in all their minutiae."[15]
Morteira's belief in eternal punishment did not sever the halakhic status of Conversos. It was Rabbi Morteira's recognition of Conversos as Jews that upset him so much. Conversos were bound to suffer as Jewish sinners if they failed to leave or escape the lands of idolatry when the opportunity presented itself.